Timbre is a musical element which describes the quality of a sound.
You could describe a sound in terms of pitch / intensity / duration / whether or not it had a repeated pattern but also in terms of its timbre (clanking / rasping / chiming / thudding / buzzing / metallic etc. sound). Interestingly, this musical element can be simultaneously easy and difficult to articulate with words depending on one's vocabulary and life experience.
We use lots of onomatopoeic words (zoom, bang, whoosh, hiss, etc… words whose sound matches the sound of they describe) to describe sounds found in everyday life. So it can be just a little step to apply these words to music.


This summer, Rhythm Circle's Musical Holiday Club ended with a workshop on Timbre. We explored sounds which you could make using the human body (no rude sounds allowed!). Cue lots of foot stomping/ clapping / finger and tongue clicking / hair swishing. What made a 'tap' different to a 'boom'? How could you make whispery sounds without using your voice?
Vocal sounds were great fun and led into a discussion about how a face might look when producing a particular sound. It was great spelling practice for the students to write down their lists of sounds.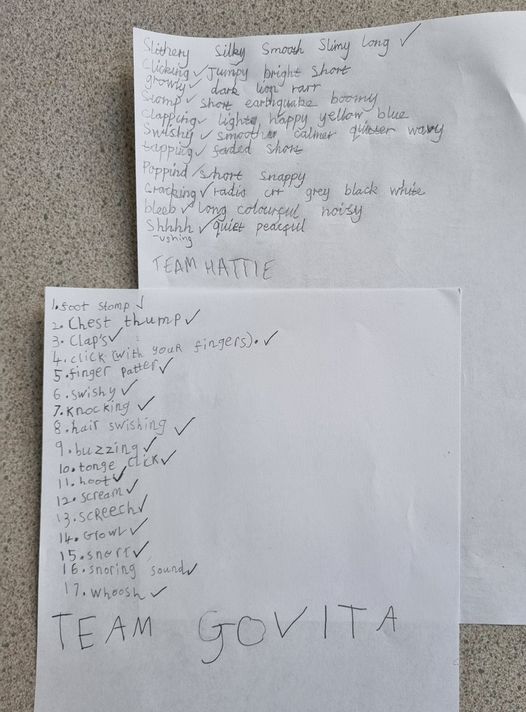 In the RC workshop, two different groups of students used Rebecca Rochelle's poem 'Fireworks' to create a musical soundscape. The poem consisted of words which described the sound of fireworks. The students explored and demonstrated ways to create sounds which matched each word. We discovered that 'zoom' seemed to inspire movement, and everyone unanimously agreed that 'whizz' was the hardest one to demonstrate.